Tar Boy to Prophet
by Blake Hausladen

From Robert Redick's first published fantasy title,

The Red Wolf Conspiracy

(RW) to his most recent work,

Master Assassins

(MA) we see an author that has honed new tools without suffering the weaknesses common to authors whose creative life must satisfy deadlines.

RW loves to surprise. This was its least attractive feature. New elements were added in each of the early chapters, often in a fashion that stopped me and pulled me out of the story. MA makes as many twists and turns, but does a much better job of dropping clues for what is coming so that the moves are welcome instead of jarring. The presentation of the world in MA is a well-curated gallery, introducing in an ordered progression, a foreign and fantastic world—a desert kaleidoscope of otherworldly wonder.

Also new to Robert's style is the inclusion of the gob-smacking turn of phrase or plot twist that stopped me cold and forced me to think.

More than once, Robert hits so hard, the bond between reader and story becomes immutable. MA's world is not what it seems at first blush and the hook it sets is sharp indeed.

MA also tried something new in terms of delivery - switching back and forth from the present to the past. My first thought each time the point of view departed the present story, was that it was too much and the plot of the main story was bogging down. I prefer to learn character back-story through the narrative and dialogue—or so I had thought. Each flashback journey Robert delivers in MA is a silver staple that binds the reader back to the main tale. The second storyline stands on its own, and I have not previously seen a flashback point of view carried off so well. MA treats the reader to two tales that cultivate each other and rewards a careful reader again and again.

The way sword fighting and action carried between the two titles did not change. Sequences remain disjoined glimpses–like the shaking camera of a news correspondent running behind a platoon. It is not my favorite style, but Robert's delivery is solid and did not weaken.

Crawling under the hood a bit more, I must make mention of the marketing copy for the new series and its reference to MA's exploration of feminism, race, and religion. There is much to say on Robert's evolution here.

MA does not shy away, in sharp contrast to RW, from recognizing and exploring the inequities that exist in its cultures. MA includes dynamic and powerful POC and female characters without stepping out of the story to wave and point at their inclusion. The view we are given of these rich and fantastic characters does suffer a touch from our limited view of them. The story's perspective throughout is male and that of the oppressor never the oppressed. The emotions and struggles of these rich characters is that of the alien. We see them but from the outside, like boys peering through a crack in the wall of women's bath.

As a final note, I must point out the one thing that did not change between RW and MA. Robert is now an author who must meet deadlines, but his work has not suffered for it. This matters and is the reason I give him 5 stars instead of 4.

I will be buying everything Robert writes, regardless of genre.

Visit Robert V.S. Redick's website at

robertvsredick.com.

Six hundred years old, the Imperial Merchant Ship Chathrand is a massive floating outpost of the Empire of Arqual. And it is on its most vital mission yet: to deliver a young woman whose marriage will seal the peace between Arqual and its mortal enemy, the Mzithrin Empire. But Thasha, the young noblewoman in question, may be bringing her swords to the altar.

For the ship's true mission is not peace but war—a war that threatens to rekindle an ancient power long thought lost.

---

Kandri Hinjuman was never meant to be a soldier. His brother Mektu was never meant for this world. Rivals since childhood, they are drafted into a horrific war led by a madwoman-Prophet, and survive each day only by hiding their disbelief. Kandri is good at blending in, but Mektu is hopeless: impulsive, erratic—and certain that a demon is stalking him. Is this madness or a second sense? Either way, Kandri knows that Mektu's antics will land them both in early graves.


​A Note from Blake

In my experience, the product is not the book, it is the author. Books that are well-liked inspire readership for the rest of the author's work, and the longest lasting connections are between the reader and the author not the reader and one title. Authors are judged by the industry over time on the strength of their catalog and the success of later work. This is a reflection of the commercial byproduct of how readers fall in or out of love with an author.

Is there an author you would like me to cover who has an upcoming release? Add a comment.


​Rating System

1 – I will not read this author again
2 – I am unlikely to read this author again
3 – I would be inclined to read a future title
4 –I will be reading another title by the author
5 – I will be buying everything the author
writes, regardless of genre

To visit Blake's Bio click HERE.
Powered by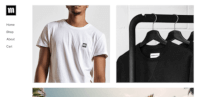 Create your own unique website with customizable templates.