Blake Hausladen writes epic fantasy where he transports his readers into a new world. Blood magic, the mystery of ancient Gods, war, statecraft, and a huge cast of dynamic characters fills the pages of The Vesteal Series.

Armed with an English degree from Ripon College and an MBA from Chicago's Stuart School of Business, Blake has thrived for many years in the shadowed back-office realms of the financial industry. He currently solves financial crimes in Chicago during the day and gives life to wild fantasies during the blackest hours of night.


---
Website design by Rook Creek Books
© 2018 by Rook Creek LLC
All Rights Reserved

---
Powered by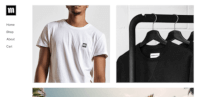 Create your own unique website with customizable templates.